Create Videos with Visla's ChatGPT Plugin
Create a short video from stock footage based on your specific topic.
Get Started for Free
How does it work?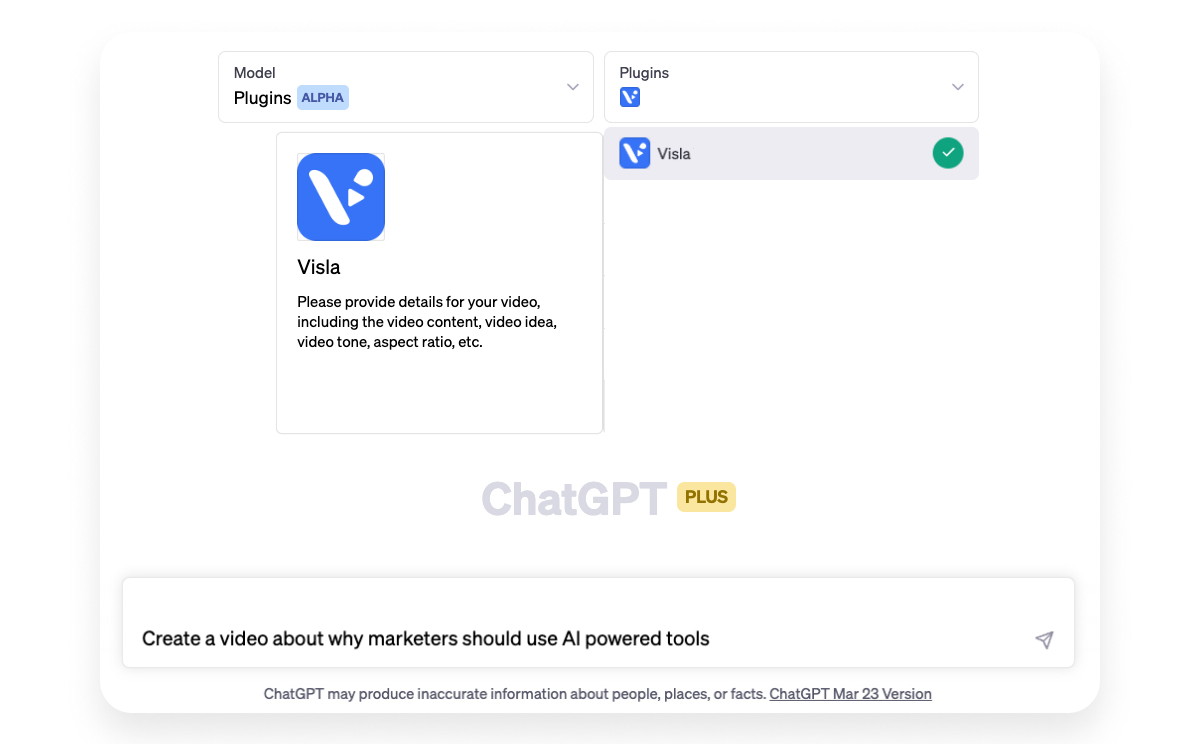 Input video prompt
Prompt ChatGPT with the subject of the video you want to create with as much details as you'd like.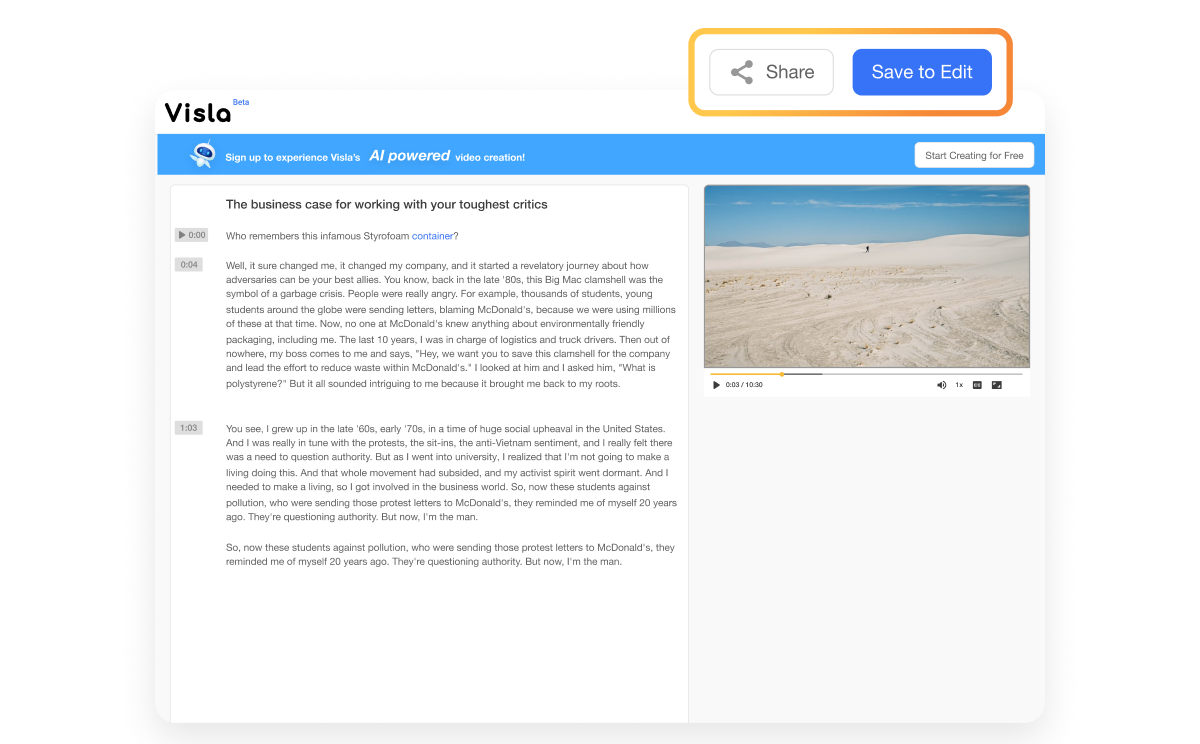 Preview video
Watch and share the video created by Visla's AI-powered video generator based on your prompt.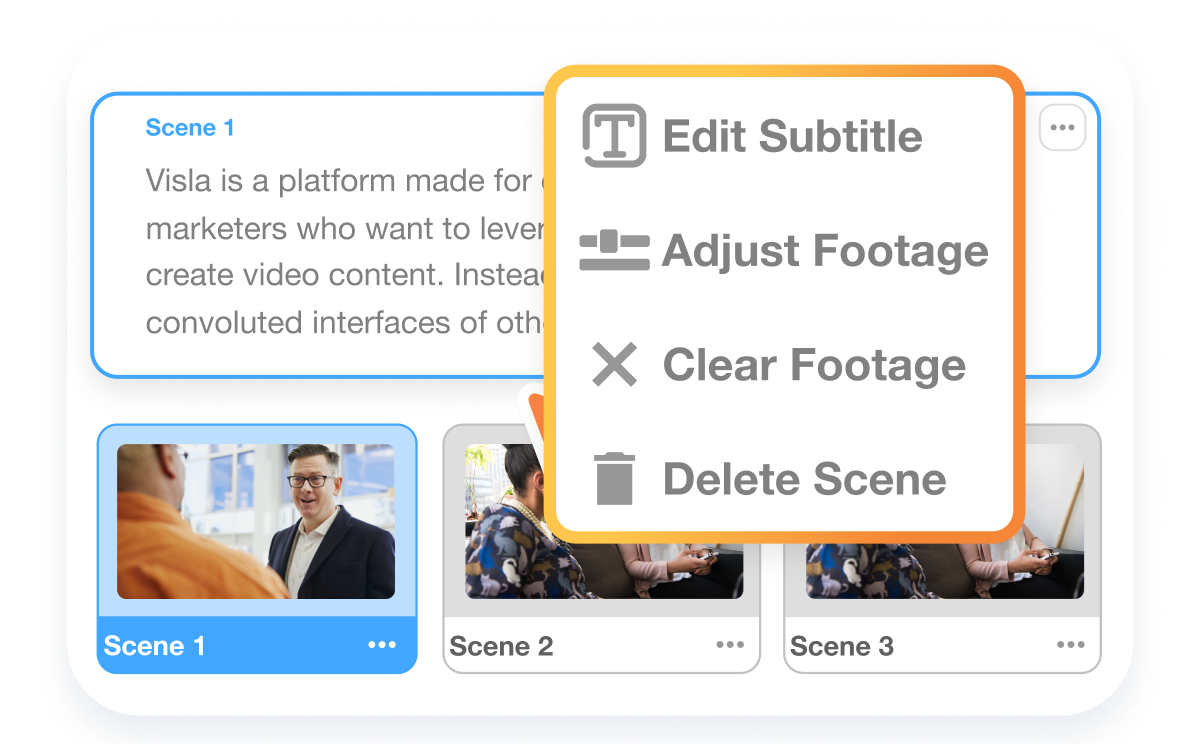 Customize video
Save the video to your Visla account to customize the video footage, text, voice-over and more. Then, export to easily share and download.
FAQ
The Visla plugin will be undergoing an upgrade from September 25th to 28th, 2023, and will be temporarily unavailable during this period. This upgrade will introduce two exciting features:

Feature 1: Create Video from Script - Collaborate with ChatGPT and other plugins to draft a video script, then seamlessly transfer it to the Visla plugin to produce a video.

Feature 2: Create Video from URL - Provide the Visla plugin with a URL, and it will craft a video using the content from the specified webpage.

Please note, these additions complement the existing capability where you can simply share a video concept or topic, and Visla will create the video for you.

Why do I need to pay for a Visla account if I pay for ChatGPT Plus, isn't it a plugin?

Visla is an external company that makes its platform available to ChatGPT users in the form of a plugin. However, a premium Visla account is needed if you wish to export any of your videos that contain premium stock footage.

Can I just use Visla alone without using ChatGPT?

Yes, you can use Visla's AI Video Generator, Idea to Video, and simply type in your idea to create a video. Visla takes advantage of ChatGPT's API for GPT-4, so you will get the same generative experience using our platform. You can also use our Text to Video feature if you have already created a story or script using ChatGPT, just simply copy and paste.

What's the benefit of a video using stock footage, can't I do that myself?

In theory yes you can do it yourself, but the reason you were looking for a solution in the first place is because you've already realized how hard, tedious, and time-consuming it can be. With Visla we make it easy for you. Whether it's a marketing video or just trying to create ideas for a later project, we help you with the use of amazing AI technology.

Why won't you let me export with watermark?

We have agreements in place with our premium stock providers, we cannot legally allow you to export with a watermark. You can go back in your project and recreate it with either Free Stock or Personal Stock footage so that you can then export with no watermarks.